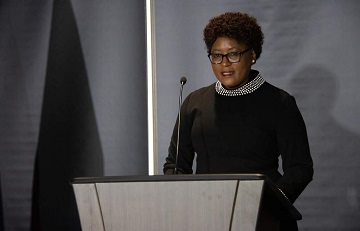 The developments around the COVID -19 outbreak, the scale and the speed at which the virus spread left us with no option but to put your safety and that of our staff first. The South African Government made the wellbeing and safety of all South Africans, regardless of where they are a top priority.

It was with this in mind that the South African High Commission in Ottawa and the Consulate General in Toronto temporarily adjusted the Missions and consular services, thus adhering to the safety advisories in consideration of public safety. We sincerely regret the inconvenience.
While there is a notable decrease in the number of cases in Canada, the full functioning of both Missions will be guided by the Government of Canada especially the health sector in its continued effort to reduce the spread of the disease. If you are a South African Citizen in Canada, we encourage you to heed the health and safety advisories from the Government of Canada and urge you to take all precautionary measures to stay safe.
We are confident that your visit to our site will help you to appreciate the vast opportunities our beautiful country, South Africa, has to offer. Whether you are a South African in Canada, a potential investor, or a tourist, this site will assist you to learn, connect and have a better and informed understanding of South Africa.
Accordingly, the site covers areas on trade and investment for the investor community; civic services (passports, identity documents and similar) for South Africans in Canada; tourism; and key and useful facts about South Africa.
South Africa continues to share strong relations with Canada, based on the "leading role Canada played in international efforts to pressure South Africa to dismantle its apartheid system and promote the establishment of a multi-ethnic, multi-racial, democratic society." Today that relationship continues and you will read more about this as you further navigate our site.
Thank you for taking the time to visit the official website of the South African High Commission in Ottawa, Canada. We pride ourselves on providing you with a simple user-friendly platform with a valuable and reliable array of information.  We encourage you to visit us often as we will constantly be updating our information with you in mind. And yes, you are welcome to add us to your list of favourites.
Ube nosuku oluhle
H.C. Sibongiseni Dlamini-Mntambo