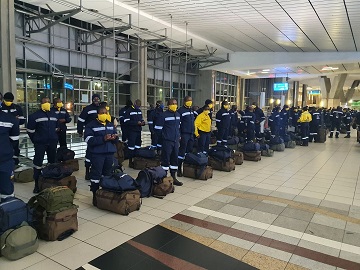 On 10 August 2021, South Africa deployed 109 firefighters, led by Mr Trevor Abrahams to the Province of Manitoba, Canada to assist with firefighting efforts. This is the fourth deployment of firefighters to Canada. Canada has been experiencing record breaking heat and associated dry weather. Large wild land fires are currently burning in the Province of Manitoba and extreme fire danger exists across the western provinces with little relief in sight and new wild land fires expected. Due to the number of provinces experiencing high fire dangers, Canada is close to exhausting available wild land fire management resources within the country.
The request for assistance came from the Canadian Inter-agency Forest Fire Centre (CIFFC) which has, in terms of a Memorandum of Understanding (MOU) between Canada and South Africa, asked for firefighting assistance from the Working on Fire (WOF) to assist with their fire management in Canada. The MOU provided for the exchange of Wild land Fire Management Resources between the two countries. The WOF programme is administered through the Extended Public Works Programme. It provides work opportunities, skills training and personal development to communities across the country. The focus is on young people and women, with around 85% of the crews comprising young people and about 30% women.
A crew of 100 firefighters and a nine-person management team has been selected following a selection process which included criteria such as physical fitness, having a valid Yellow Card, more than three (3) years firefighting experience, a valid South African passport and an additional criteria such as passing a drug test and having a clear criminal record. Out of the selected firefighters 30 are women and 35 have previous deployment experience to Canada. They would be deployed for a period of 34 days.
Prior to their departure these firefighters and management underwent refresher training in Gauteng to ensure that they are fit and ready for the conditions expected in Canada. Refresher training included map reading; power pumps usage, fire line safety, helicopter safety as well as extensive pre-deployment training on the type of conditions they can expect in Canada, including the different types of dangerous animals expected. The firefighters also took a Covid-19 PCR Test and when they arrive in Canada, they will be vaccinated.
The South African Minister of Forestry and the Environment, Ms Barbara Creecy wished the team well as they embark on their fourth deployment to Canada to save lives and homes. She trusted that they would fly the South African flag high.
The South African High Commissioner to Canada, Ms Sibongiseni Dlamini-Mntambo noted that South Africa's immediate response to Canada's call for assistance, demonstrates the good working relations which exist between the two countries.
More: https://workingonfire.org/south-africa-to-send-100-firefighters-to-assist-in-firefighting-efforts-in-canada/