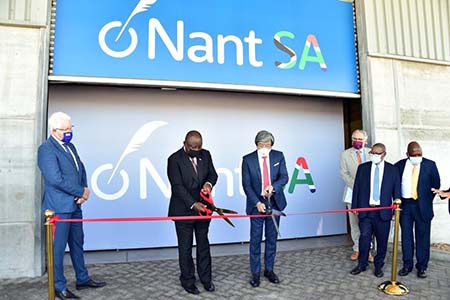 The President and Dr Soon-Shiong launched the Coalition to Accelerate Africa's Access to Advanced Healthcare (The AAAH Coalition) Wednesday.
NantSA, a division of NantWorks, and The AAAH Coalition aim to accelerate domestic production of pharmaceuticals, biologics and vaccines that will reach patients across the African continent.
Through the synergistic efforts of members of The AAAH Coalition, self-reliance will be accelerated around next-generation vaccines manufactured in South Africa for Africa, innovative therapeutics and pandemic preparedness.
With the support of the Chan Soon-Shiong Family Foundation, institutes for infectious disease and cancer centres of excellence will be established at the universities of Cape Town and the Witwatersrand and the Chan Soon-Shiong Centre for Epidemic Response and Innovation at the University of Stellenbosch.
The launch of The AAAH Coalition and NantSA's vaccine manufacturing campus followed the announcement made by Dr Soon-Shiong on 23 September 2021 of an ambitious initiative to build capacity for advanced healthcare in Africa.
The launch of the manufacturing facility took place at the Brackengate Business Park in Brackenfell where President Ramaphosa and Dr Soon-Shiong performed a ribbon-cutting for the official launch of the NantSA vaccine manufacturing campus and presented the vision and mission of The AAAH Coalition.
This event was attended by a select group of invitees, including representatives of government, academia and the biotech industry.