BIOGRAPHY
HIGH COMMISSIONER – SIBONGISENI DLAMINI-MNTAMBO
---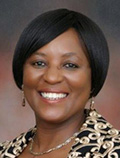 The South African High Commissioner to Canada assumed her duties in Canada in 2017. From 2017 -2020 she was the President of the Women Heads of Diplomatic Missions in Canada and served in the Executive Committee of the Ottawa Diplomatic Association. She was the Vice President of this Association from 2019 until 2020. She also chaired the SADC group in Canada from 2017-2019.
Armed with a University Diploma in Education, High Commissioner Dlamini-Mntambo started her career as a teacher in 1993. She left teaching to pursue a career in the fields of communication, marketing and advertising, working in the FMCG and in the mining and metals industry. In 2006 she was the Public Affairs and Communication Adviser for the Chamber of Mines of South Africa. While at the Chamber of Mines of South Africa, she led the industry communication team within the Mining Industry Growth and Development Task Team (MIGDETT) whose mandate was to develop a national growth strategy for the mining industry. She also chaired the Mining Industry Public Affairs Committee (MIPAC).
She has held executive positions within the South African Government such as the Department of Economic Affairs and Tourism; the Department of Minerals and Energy; and the Department of Higher Education and Training. Skilled in strategy development, and as a seasoned marketing professional, H.E. Dlamini-Mntambo counts amongst her most successful career achievements, the coordination and management of the communication and marketing campaigns for South Africa's 2004 National and 2006 Provincial and Local government elections while at the Independent Electoral Commission of South Africa. High Commissioner Dlamini-Mntambo holds a BA degree and a BA (Honours) degree, both in Communication Science. She has a University Diploma in Education and a Master's degree in Business Leadership (MBL) obtained from the University of South Africa.
She is the proud mother of two daughters and a son.
---