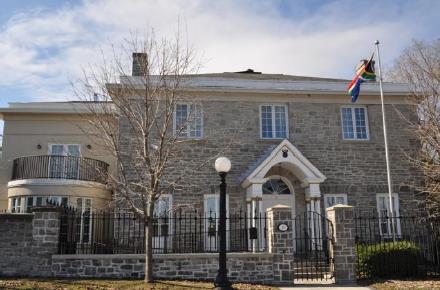 5 Rideau Gate, the Official Residence of the High Commissioner of the Republic of South Africa, was built around 1842, shortly after the construction of Rideau Hall. The 1 ½ storey cut-stone house was built for James Stevenson, manager of the Bank of Montreal. It boasts architectural characteristics typical to houses in Ottawa during the Confederation period with the moldings made from heavy round stock, marble fireplaces, newel posts and stair rails.
The house has been remodelled several times. In the 1920's, it was extended to two storeys. Large doors carved with a sunflower motif were installed in the main salon and dining room, and the hall ceiling was paneled and painted with sunflowers. In the 1960's, the sunroom was added and in 1964, the office building (Chancery) was built adjoining the house. In 1975, lawns were planted with shrubs and trees and in 1989, wrought iron railings were added to the perimeter walls. Most recent (in 2009 – 2010) changes included the remodelling of the kitchen and the addition of disabled access, including an elevator.
Past Residents:
1842 – 1867: James Stevenson, manager of the Bank of Montreal
1867 – 1869: Moss K. Dickinson, merchant, entrepreneur and Mayor of Ottawa
1869 – 1878: Isaac B. Taylor, proprietor of the Ottawa Citizen newspaper
1878 – 1920: Various government and military officials, merchants etc.
1920 – 1937: Austin Gillies, insurance, real estate and bond dealer and later president of Sladen Malartic Mines
In 1944, the house was bought by the Union of South Africa for $42,500 and has since served as the official residence for the South African High Commissioner.
The South African High Commission and the Official Residence are in a particularly important location: immediately opposite the Prime Minister's residence at 24 Sussex Drive and adjacent to the gates to Rideau Hall, serving as the north gateway to Confederation Boulevard, the Capital's system of ceremonial routes.
5 Rideau gate has been designated Level 1 by the City of Ottawa under Provincial Heritage Legislation (1996).