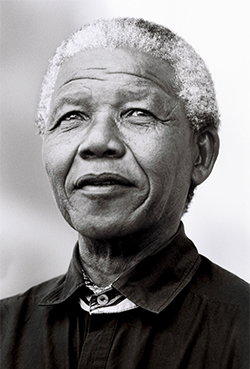 South Africa's historic election in 1994 brought us our first democratically-elected president, Nelson Rolilhlahla Mandela.
Nelson Mandela, also affectionately known as Madiba, became the father of our new nation and our gift to the world. He called on oppressed South Africans to raise their fists when their words of defiance were only being met with gunfire and repression. But then, after serving 27 years of his life sentence, he emerged with compassion and not bitterness. He reminded the world in his autobiography:
"No one is born hating another person because of the color of his skin, or his background, or his religion. People must learn to hate, and if they can learn to hate, they can be taught to love, for love comes more naturally to the human heart than its opposite."
When peace was within South Africa's grasp, he reminded those who suffered under apartheid that holding on to hatred and anger would be granting the oppressor power. He reminded South Africans that forgiveness was the only way they could truly be free.
This South African and honourary Canadian legend would have turned 100 in 2018. Please join us in keeping his legacy alive.
Additional information:
To learn more about Nelson Mandela and his centenary, please click here.
The South African High Commission often receives requests to talk about Nelson Mandela and his legacy. Please contact us if you would like us to speak at your school or organisation.