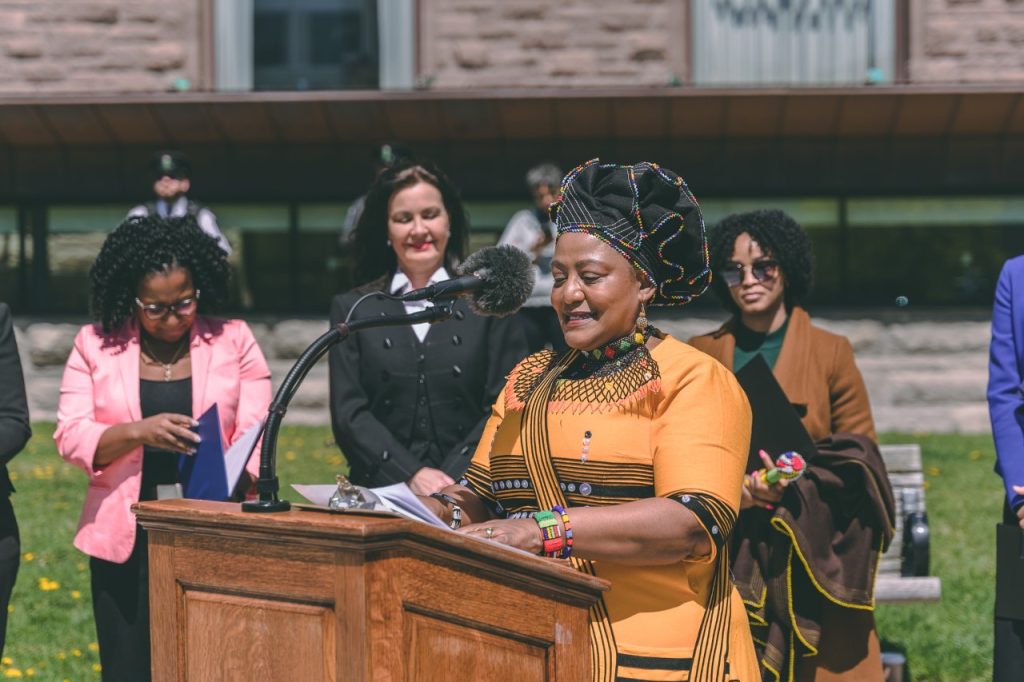 Honourable Deputy Speaker, Donna Skelly
Honourable Members of the Ontario Provincial Parliament,
Consul-Generals,
Members of the Consular Corps,
Fellow South Africans,
Colleagues,
Ladies and Gentlemen,
It is my honour and privilege to represent the people and the government of the Republic of South Africa during this important ceremony marking and celebrating 29 Years of freedom and democracy. We celebrate this year's Freedom Day under the theme: "Consolidating and Safeguarding Democratic Gains".
This year marks 10 years of the passing of the late father of the democratic South Africa, Former President Nelson Mandela. We fondly remember the late father of our nation as we witness the challenges that the world is confronted with. We hope the global community could once again draw lessons from the life of Former President Nelson Mandela as we strive for peace and harmony amongst nations.
Honourable Deputy Speaker, I am sure you will agree with me when I say, the world needs more Nelson Mandelas today than ever. On 18 July, the International Nelson Mandela Day, I hope you will join or partner with us when we remind people about the goodness of humanity by doing good for others especially the poor and disadvantaged.
Honourable Deputy Speaker, this will be a great tribute in remembrance of the great Nelson Mandela who became the first living person to receive honorary Canadian citizenship when the Canada Parliament bestowed the honour on him in 2001 in recognition of his "great moral leadership to South Africa and to all humanity."
Programme Director,
The bilateral relations between South Africa and Canada have strengthened over the years since South Africa became a democracy in 1994. This year the 14th Annual Consultations between the two governments will be taking place in Ottawa in the next few weeks. This week South African Universities represented at the highest levels and Research Councils are meeting their Canadian counterparts in Toronto and Ottawa to explore further collaborations and cooperation. Some of them are with us today to celebrate this day with us.
Of course, our path to democracy was never easy, and we are eternally grateful to friends and partners such as Canada who contributed significantly to the freedom we enjoy today.
Canada, through its advocacy in fora such as the Commonwealth; support for economic sanctions against the Apartheid regime in the 1980s and through the production of documentaries and films, helped to educate many people about the injustices in South Africa and so popularised the liberation struggle in South Africa. Canada was also home to many South African refuges, who were persecuted by the apartheid regime. Some of those veterans are with us today.
Programme Director,
South Africa has covered lots of strides since our democratic breakthrough in 1994, however, we are the first to acknowledge that much remains to be done to resolve challenges of unemployment, poverty, and inequality which continues to bedevil our communities. These triple challenges have been exacerbated by our energy challenges.
However, this provided an opportunity for government to fast-track implementation of the energy mix plan. We are working to increase generation capacity, while diversifying our energy supply. Government is committed to reduce load shedding, transform the electricity sector and achieve long-term energy security. Over the longer-term we will move to a greener and more sustainable energy supply that will fundamentally change the country's energy future. Government is already implementing a number of interventions to help move us to a more secure energy future. It includes:
Appointment of Minister of Electricity
Lifting of the threshold for companies to produce their own electricity without a licence to 100 megawatts. · Announcement of 11 successful bidders for the Risk Mitigation Independent Power Producer Power Procurement Programme.
Bid window five of the renewable energy programme to procure 2 600 MW of new generation capacity from wind and solar photovoltaic projects.
We are also making every effort to bring new power generation capacity online in the shortest possible time. We invite Business Canada to partner with us on this endeavor
Programme Director,
This year we also commemorate the 27th anniversary of the enactment of the Constitution as the supreme law of our country. This is the constitution that ushered in a new social order of constitutionalism. Let's build on the progress we have made under the democratic dispensation. South Africa has made significant progress in transforming from an apartheid state into a democratic one.
The values of human dignity, non-racialism and non-sexism, and the rule of law remain paramount in our nation. Let us continue to work for freedom from poverty, unemployment, racism, sexism and other forms of discrimination. As a nation, we are stronger together and have more in common than that which divides us. Each citizen has a responsibility to take charge and play an active role in building the South Africa we want.
Freedom Month reminds us that our freedom was not free. Our road to democracy required untold sacrifice, and many paid the ultimate price for us to be free. Therefore, it's important that we not only enjoy our freedom, but take responsibility to protect our democracy for future generations.
Programme Director,
In conclusion, I would like to thank the Ontario provincial government and the Federal government of Canada for being kind and receptive to South African diaspora who now reside and work in Canada. These are South African who are working or practicing their trades in different sectors of the Canadian economy, and they call both South Africa and Canada their home.
Ndiyabulela! Thank you!