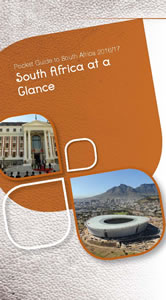 Land surface area
1 220 813 km2
Key economic sectors
Mining, transport, energy, manufacturing, tourism, and agriculture
Population
Total: 57,73 millionMale: 28,2 million (49%)Female:29,5 million (51%)
Official languages
English
isiZulu
isiXhosa
isiNdebele
Afrikaans
siSwati
Sepedi
Sesotho
Setswana
Tshivenda
Xitsonga

Currency
Rand (ZAR) – 100 cents equals one rand.
Time
GMT +2 hours
Government
Constitutional multiparty democracy, with three spheres – local, provincial and national government.. Read more about South Africa's government.
Capitals
Pretoria (administrative)
Cape Town (legislative)
Bloemfontein (judicial)
The Constitutional Court is located in Johannesburg.
Provinces
Eastern Cape
Free State
Gauteng
KwaZulu-Natal
Limpopo
Mpumalanga
Northern Cape
North West
Western Cape

Transportation
Excellent roads, rail and air facilities (both domestic and international). Public transport in major cities include the Gautrain between Johannesburg and Pretoria, and the Bus Rapid Transport System in major cities.
Telecommunications
World-class infrastructure. Internet access is widely available. The five mobile (cellular) networks are Vodacom, MTN, Cell C, Telkom Mobile and Virgin Mobile.
Health
Top-quality public and private healthcare is available throughout the country. Malaria precautions are necessary in some areas.
Source:Statistics South Africa's Mid-year Population Estimates, 2017
More information
Source: Official Guide to South Africa