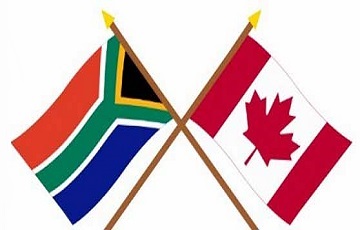 The rise of Africa and Cyril Ramaphosa, in case you missed it
A journalist covering the 2019 G7 Biarritz Summit in August caused a social media firestorm when she tweeted out a photo of four leaders in mid-embrace. The problem wasn't the picture, it was the accompanying description: "World leader bear hug before the group photo @#G7Summit in Biarritz, France. @EmmanuelMacron @narendramodi @JustinTrudeau and one unidentified leader." The unnamed person? South African President Cyril Ramaphosa.
Ramaphosa took office in February 2018, replacing his long-embattled predecessor, Jacob Zuma. He leads a country of nearly 59 million people that also has the most advanced industrial economy on the continent. He has attended the 2018 G7 Charlevoix Summit, the 2018 G20 Buenos Aires Summit, and, most recently, in June, the 2019 G20 Osaka Summit. All of which begs the question: how could Ramaphosa have gone unrecognized at a G7 gathering?
Perhaps the answer is simply that the reporter – like too many of us – hasn't been paying close enough attention to the rapprochement happening in Africa or to the central role that Ramaphosa has played in it. With 28 percent of all the world's countries, Africa could easily have an outsized impact on international geopolitics and the global economy. Ramaphosa is one of many African leaders actively working together to make this become a reality.
Three days after Biarritz, Ramaphosa was in Yokohama, Japan, to address a bilateral business forum. His topic was the African continent's competitive advantages, as it enters a new era: "We share an untapped demographic boom, as populations across the continent grow larger, more urbanized and better educated. We share immense natural wealth, and incredible potential for the development of advanced manufacturing and services economies."
He then presented a striking comparison: "Without doubt our development path will be long and complex. But the lesson of the development of the Asia-Pacific region must surely be that those who invest early and work to develop local capabilities stand to gain the most as underdevelopment gives way to a region of huge consumer markets and advanced productive hubs." In other words, both can be mammoth economic regions ─ Asian and African elephants.
A week later, back in Cape Town, Ramaphosa hosted the 2019 World Economic Forum on Africa and declared boldly: "This is Africa's century." He pointed to the African Continental Free Trade Agreement Area (AfCFTA), which he has said "gives practical expression to our long-held belief that the interests of any nation in our continent become meaningless if they are not pursued within the context of shared prosperity among African people as a whole."
The AfCFTA has been signed by 54 African countries – all except Eritrea, and it brings together 1.3 billion people with a total projected gross domestic product of $3.4 trillion. Once implemented, it will create the largest multinational trading bloc on the planet, and it promises to enhance economic integration, intracontinental trade, market efficiency, productivity and competitiveness. As well, it aims to help combat corruption, which has been endemic in parts of Africa.
The AfCFTA was a topic of discussion when Ramaphosa met with Prime Minister Justin Trudeau during the G7 meeting in Biarritz, where the two leaders affirmed the agreement would increase bilateral trade between Canada and South Africa, encouraging inclusive growth and prosperity. Interestingly, the AfCFTA has a Canadian connection – its negotiation was supported by the Centre for Trade Policy and Law at Carleton University.
To date, Ramaphosa has promoted the AfCFTA and pan-African unity from the podium of South Africa's presidency. Next year he will become chairperson of the African Union, and, in that capacity, help implement the AfCFTA and travel the world – perhaps to Canada – as the official spokesman of African solidarity. Auspiciously, Ramaphosa will take up this role almost 30 years to the day that Nelson Mandela was released from Victor Verster prison.
Mandela was always open about the fact that Ramaphosa, not Thabo Mbeki, was his first choice for deputy president. As he later wrote in his memoirs, "[Ramaphosa] is an impressive, adroit and persuasive individual and influenced both friend and foe…He earned for himself a lot of respect and admiration, and emerged as one of the most powerful figures among the constellation of eminent thinkers…one of the main architects of the new South Africa."
Ramaphosa waited two decades to become deputy president, under Zuma, and even longer to succeed his late mentor as president. And yet, one can sense the timing has worked out. If Ramaphosa was one of the main architects of the new South Africa in the 20th century, he is now positioned to be a main architect of the new Africa in the 21st. If he succeeds, there's very little chance he will go unrecognized again – at any gathering.
Mr. Hughes' opinion article was first published in the Policy Options on 23 October 2019. Link: https://policyoptions.irpp.org/magazines/october-2019/the-rise-of-africa-and-cyril-ramaphosa-in-case-you-missed-it/