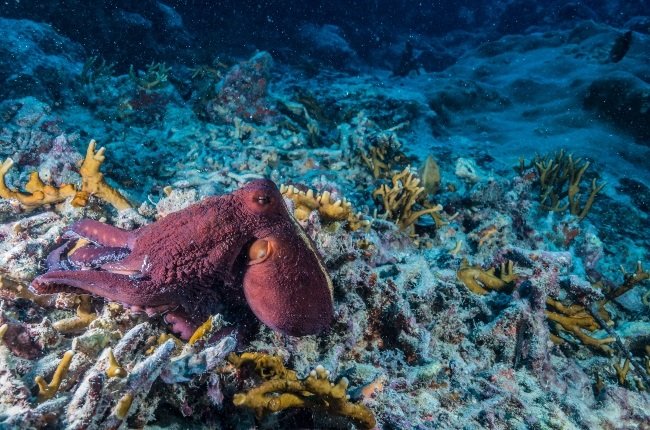 The City of Cape Town has congratulated filmmaker Craig Forster for winning a Bafta award for his Netflix documentary . The 2021 awards took place virtually in a live ceremony on 11 April.

The film follows filmmaker Craig Foster as he forms an extraordinary bond with an octopus while exploring the kelp ecosystem near Simon's Town.
He formed a deep connection with the creature, learning a new appreciation of the complexity of marine life, which also impacted other areas, including his daily life.
Speaking to News24, Kevin Smuts, who worked on the film's score, said there were five nominees in the best documentary category.
"They are all phenomenal filmmakers documenting or covering parts of our world – newsworthy events.
"It's wonderful having been awarded the prize, even just being nominated, is a great honour," he added.
No one had known beforehand if they had won, so when the team heard on Sunday they had scooped the award, they were over the moon.
Smut said he had worked with Foster on many of his films since 2007, with the documentary being the most trying, but most rewarding.
"It's the pinnacle of my career so far, and working on the soundtrack for the film is something I am most proud of."
Cape Town Mayor Dan Plato extended his congratulations to the team on receiving this accolade.
"It gives me great joy to see our residents promoting our city and doing so on such important topics such as marine conversation," he said.
The film initially began as a project to study the kelp ecosystem, but while chronicling this habitat, Foster began a special relationship with the octopus, which saw the birth of the film.
The documentary, which was filmed in Cape Town, has been viewed worldwide.
Sasha-lee De Bruin, who has a deep love for octopuses, said she screamed and shouted when she heard the documentary had won the award.
"I was over the moon for the team, that documentary was world class, and it most certainly was a well-deserved win."
As an aspiring filmmaker, De Bruin added she had learnt so much from watching the documentary, and it had reignited her love for marine life.
It is also nominated for an Oscar in the documentary feature category, which will be held on 25 April.
People from all over the world have praised the documentary for winning a Bafta. "I'm so pleased has won best documentary – if you haven't seen it yet, do watch it on @netflix, it's incredibly moving and beautiful," one fan said.
Another one described it as "is phenomenal with its narrative, novelty and visual evidence".