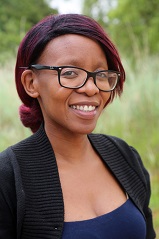 Archaeologist and biological anthropologist, Keneiloe Molopyane, is recognised as a trailblazer by the prestigious National Geographic Society.
Ms. Molopyane was announced as part of the National Geographic Society's 2021 Emerging Explorer cohort recently. "The Emerging Explorer cohort comprises individuals breaking through in their respective fields with big ideas," a statement from the National Geographic Society explains. "They are nominated by the National Geographic Society to become a part of the global National Geographic Explorer community of changemakers."
"It's been overwhelming," said Molopyane about the honour of being named a National Geographic Explorer. "Since I found out, I've had little time to sit back and realise what it all means. I think it's still sinking in!"
"Keneiloe was selected as a member of this cohort because she exemplifies what it means to be a National Geographic Explorer," said Alex Moen, Chief Explorer Engagement Officer at the National Geographic Society. "Through her work as an archaeologist and biological anthropologist, and her focus on inspiring the next generation, Keneiloe is advancing our understanding of the world and all that's in it."
As an explorer, Ms. Molopyane has the opportunity to work with National Geographic to pursue new projects, collaborate with other explorers, amplify her work to National Geographic audiences, and do educational outreach through the society. She will also participate in public speaking and media training. Ms. Molopyane joined the Rising Star Cave research team in 2018 as a junior underground astronaut. She completed her PhD in Biological Anthropology at Wits in 2020, and then became involved in the UW105 Cave excavations, where she took on a leadership role in the expedition. Ms. Molopyane has since become the first postdoctoral research fellow at the Wits Centre for Exploration of the Deep Human Journey, which is headed up by fellow Witsie and National Geographic Explorer at Large, Professor Lee Berger. Ms. Molopyane's postdoctoral research will entail deep exploration of the famous Gladysvale Cave system, which is located at the Cradle of Humankind World Heritage Site.
Ms. Molopyane joins a group of 14 other scientists, educators and storytellers in the 2021 Emerging Explorer cohort – a group of people whose fields of expertise are as diverse as culinary history and marine biogeochemistry. "They're amazing people, phenomenal!" said Ms. Molopyane of her cohort. "I feel proud to represent Africa, and hope to see more Africans receiving the same recognition in the coming years."