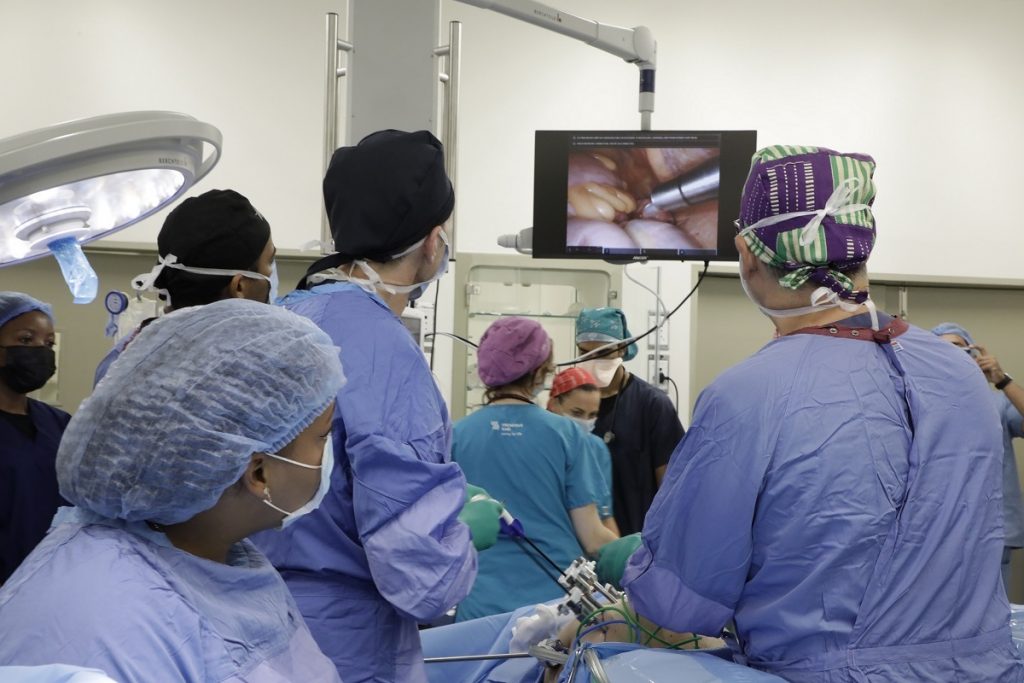 Tygerberg Hospital is proud to announce the launch of its da Vinci surgical robotic programme. This will coincide with the first robotic operation in a government hospital in South Africa being performed at a tertiary academic centre. The introduction of this advanced technology is a first for both patient care and surgical innovation in the South African state health system.
Two da Vinci Xi systems (the fourth generation and most technologically advanced surgical robot currently available) were acquired by Western Cape Government in October 2021. The Tygerberg Hospital system will be used by surgeons from the specialist disciplines of colorectal surgery, urology, gynaecology, and hepatobiliary surgery. The system's versatility and its use by multiple surgical specialities will maximise the number of patients who will benefit from this sophisticated medical technology. The main diseases that the programme will focus on are colorectal, liver, prostate, kidney and bladder cancers, and women with severe endometriosis.
The da Vinci surgical system gives surgeons with an advanced set of instruments to use in performing robotic assisted minimally invasive (keyhole) surgery. The operation is not performed by a robot alone; instead, the system gives surgeons an advanced set of tools/instruments that the surgeon guides from a dedicated console via fibre optic cables. The da Vinci system thus "translates" a surgeon's hand movements at the console in real time, bending and rotating the instruments while performing the procedure. The tiny surgical instruments move inside the patient like a human hand, but with far greater precision and with a significantly greater range of motion.
Patients will benefit from the multiple technological advances found in this latest da Vinci robot, namely:
Better visualisation and magnification of tissues by the da Vinci camera (facilitating more precise surgery).
Being able to do major surgery through multiple small incisions instead of a big skin incision, leading to less post-operative pain and a faster return to normal activities after surgery, when compared to standard "big incision" surgery.
Fewer post-operative complications such as hernias.
Built-in visualisation systems that allow for checking the blood supply of an organ and thus decrease the chance of major complications when compared to traditional surgery.
Being able to see the operation in 3D, and thus have better depth perception when compared to traditional laparoscopic surgery, where the image is in 2D.
The Premier of the Western Cape, Alan Winde, said: 'Yet again, the Provincial Department of Health is putting the Western Cape Government's core value of innovation into practice. It truly is an incredible feat that Tygerberg Hospital has become the first public hospital in South Africa to perform a robotic surgical procedure today. It is going to make a big difference in helping us recover our comprehensive healthcare services, which were impacted by the pandemic. I applaud all those involved in this significant achievement for the Western Cape.'
Congratulating the hospital, Western Cape Minister of Health Nomafrench Mbombo, said: 'Once again, the Tygerberg Hospital has come up with a ground-breaking technology where they will perform robotic surgeries, meaning, they will be the first hospital on the continent to perform these types of surgeries. The timing just after the 4th wave is perfect, just because after this surgery patients have a shorter hospital stay and recovery time which allow them to get home quicker to be with their families and to return to work. For us as the health department, this also means we will have more space to accommodate more people. While the focus has been more on COVID-19, now we are in the process of phasing in non-COVID illnesses. We are facing an insurmountable backlog but with this innovation, we have hope of catching up. I applaud the team of the hospital, well done.'
Dr Matodzi Mukosi, Tygerberg Hospital CEO, said: 'We see this as an opportunity to use state of the art medical technology to improve patient experience and ensure good clinical outcomes. This will also be a good morale booster for our surgeons and theatre staff who will be able to showcase their skills and capabilities in the field.'
Dr Tim Forgan, Tygerberg Hospital Head of Colorectal Surgery and Robotics Coordinator said: 'The da Vinci robotic system is the latest cutting-edge technology in minimally invasive surgery. To use this surgical system (that has been shown to decrease the chance of complications, while allowing for successful major surgery through small incisions) at Tygerberg Hospital is exciting and inspirational.'
The use of the da Vinci Xi system is an evolution of the surgical techniques that are already being employed by the surgeons at Tygerberg Hospital. The surgeons who are being trained in using the da Vinci are already accomplished laparoscopic surgeons and are considered national experts in their respective fields. They are all lecturers at Stellenbosch University's Faculty of Medicine and Health Sciences. The Tygerberg Hospital da Vinci robotic programme is being built on the foundation of years of experience and technical know-how in minimally invasive surgery (keyhole surgery). 'Thanks to this solid foundation stepping into robotic surgery has been seen as a natural progression,' Dr Tim Forgan concluded.