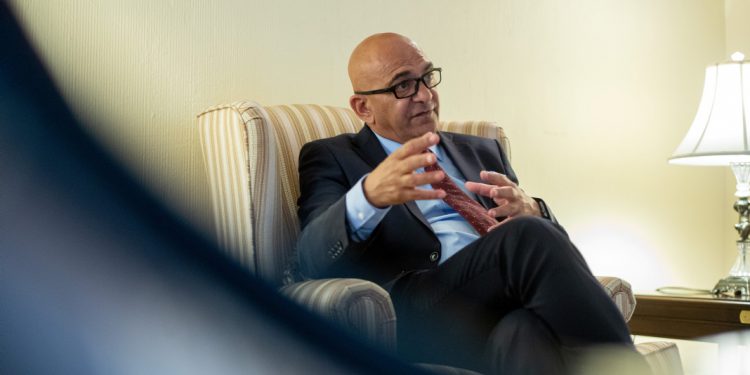 After reaching a limited agreement to address intellectual property barriers hindering greater distribution of COVID-19 preventing products, Ottawa was "sluggish" to help find a solution, says South Africa's newest envoy to Canada.
South Africa and India brought forward a waiver at the World Trade Organization Trade Organization's (WTO) Trade-Related Aspects of Intellectual Property Rights (TRIPS) Council in October 2020, but since then Canada has neither indicated it would support or reject the proposal, leading many to believe that Canada was spurning the initiative by not making a decision even after the U.S. had said it would back a waiver.
A modest waiver was agreed to at the recent WTO ministerial, which took place June 12-17. The agreement gives developing countries the ability to manufacture patent-protected COVID-19 vaccines in limited circumstances, but it does not cover COVID-19 tests or treatments. Some have criticized the agreement for not being broad enough and coming too late.
"We hoped that it didn't have to take so long," said South African High Commissioner Rieaz Shaik in a wide-ranging interview at his Rideau Gate residence. "We hoped that Canada would have been much more in the lead in understanding the need for the waiver of TRIPS."
He noted that the U.S. supported a waiver "much faster" than Canada did, adding that South Africa is currently studying the implications of the agreement.
"We didn't quite understand why that is the case with Canada," he said, noting that there will be more need in the future for countries to be able to consult and come to quick agreements as the world deals with energy, economic, and food crises. "The pandemic was just a forerunner of what is to come, and we were too sluggish."
"We thought that Canada could have been more in the lead in finding a global solution to a global problem so that it could establish its own credentials as an emerging middle-power that is contributing to the reconstruction of a new order in the world," he said.
In a statement following the WTO ministerial, Global Affairs credited the Canadian-led Ottawa Group for being "critical" in reaching consensus on a TRIPS waiver.
International Trade Minister Mary Ng's (Markham-Thornhill, Ont.) office didn't respond to a request for comment before publication deadline.
Shaik said he isn't "overly critical" of Canada on the file, but said it could have done "much more, much quicker, and in a much more caring way."
He said there was a "unique opportunity" for Canada and the world to demonstrate that the multilateral rules-based system works and that it works for both the powerful and the less powerful and vulnerable.
Shaik, who has had previous diplomatic postings as South Africa's ambassador to Algeria and in Hamburg, Germany, as consul general, presented his letter of credence to Governor General Mary Simon on April 27 at Rideau Hall – steps away from the high commissioner's residence and the adjoining high commission.
When he was offered the job by South African President Cyril Ramaphosa's office, Shaik said his family was already divided between South Africa and Canada as his wife Erin Tansey, a Canadian national, had recently accepted a job with the International Development Research Centre as the director of its sustainable inclusive economies program.
"I think my wife has much more pull in my government than I do," he quipped.
Throughout his career in government, Shaik was a senior adviser to former foreign affairs minister Nkosazana Dlamini-Zuma, as well as the director-general of the South African Secret Service, responsible for all non-military foreign intelligence and counterintelligence gathering.
He also played a leading role during apartheid South Africa in the then-banned African National Congress's (ANC) intelligence network. He authored The ANC Spy Bible: Surviving Across Enemy Lines about his experiences.
Given that, according to the envoy, Canada missed an opportunity to play a leading role advocating for the TRIPS waiver, Shaik said another chance has presented itself to address Russia's attack on Ukraine.
Since the Feb. 24 invasion, South Africa has largely stuck to the sidelines and refused to interject itself in the conflict, including abstaining in votes criticizing the invasion at the UN General Assembly and the UN Human Rights Council.
Shaik said there is a need to renew the focus towards peace negotiations.
"We must end this war. We must end this war now," he said. "We must end this war through negotiations now. No one is going to win this war."
He said Canada can do more to produce a negotiated solution.
"The call for negotiations should become louder and we think Canada should add its voice to that," he said.
Shaik said given the interdependence of the world, it is difficult to see how isolating Russia can work.
He said more focus needs to be on multilateral forums to find a solution. "The multilateral process was abandoned too quickly," he said.
Shaik referenced the negotiations that took place to end apartheid in arguing for the need for conflicting sides to keep talking.
"The day we started to understand the other side's fears and the other side's problems is the day that we became closer to a solution," he said. "The moment you start to understand the fear of the other side, you are then able to come up with legitimate solutions to the problem."
"This applies to Russia, it must apply to Ukraine, it must apply to Europe, it must apply to the U.S.," he said. "We each need to understand each other's fears."
When countries address global problems by dealing with "likeminded countries"—a phrase commonly iterated by the Liberal government—Shaik said it is "nothing short of nationalism."
"It is nothing short of pursuing your national imperative at the cost of the global need," he said. "It means, 'I take care of myself and my neighbour and people who think like me.'"
As a result, the problems in the rest of the world get ignored. He said countries like Canada and South Africa need to offer global leadership.
"Are you willing to give global leadership to the global problems that affect all of humanity today? If you're not, step aside," he said.
Shaik said when there are inflation and food crises, they will be most felt by the poorer nations.
"In Africa and in the developing world, food insecurity rapidly translated into instability," he said. "You may not have those shortages here, but in Africa, shortages will turn into instability. So large parts of the world will become unstable if this conflict continues and the consequence of this conflict continues for a long time."
Russia's blockade of Ukrainian grain exports has prevented many exports from reaching Africa, and Senegalese President Macky Sall has blamed Western sanctions for exacerbating the food crisis.
A reset in Canada-South Africa relations?
The Ottawa-Pretoria relationship is like a family relationship that has been ignored over time, Shaik said.
He said when the Harper government came to power, relations between the two countries "fell off the radar."
"Now we are at a point where we want to reset those relationships," he said, adding that will include a reset bilaterally, multilaterally, and in its trading relationship.
Shaik said he wants to increase Canada-South Africa trade by a factor of 10, noting it would help to spur Canada's diversification agenda.
Politically, Shaik said the two nations can use the close relationship between Prime Minister Justin Trudeau and Ramaphosa, and between Foreign Affairs Minister Mélanie Joly and South African counterpart Naledi Pandor to improve relations.
That call for a reset comes after a diplomatic spat over Canada's decision to impose a travel ban on South Africa and neighbouring southern African nations in late 2021 as the Canadian government said it was trying to reduce the spread of the omicron variant of COVID-19.
Sibongiseni Dlamini-Mntambo, Shaik's predecessor as high commissioner, told The Hill Times prior to her departure that Canada should have handled the period better, noting that the two countries should "respect each other."
It wasn't just the decision to impose a travel ban, but how it was imposed that irked South Africa.
Dlamini-Mntambo said that prior to putting the travel ban in place, the South African High Commission was not made aware of the decision—instead they read it on the news.
Shaik said every country can benefit from being more sensitive to the impacts of pursuing its national interests in a "very narrow way."
Canada was panicking when it put the travel ban in place, Shaik said.
"That panic may be part of a sort of colonial mindset," he said, noting that his regret wasn't the panic, but the time it took for Canada to reverse the decision. The ban lasted from Nov. 26 to Dec. 18, 2021.
While there isn't undue resentment from that period, Shaik said he thinks Global Affairs has learned from the experience, including at Canada's High Commission in South Africa.
"You got to know something about South Africans: we're a rowdy lot. We have words in our mouth, and we are going to say them. Sometimes we don't say it properly, we don't say it in accordance with the best ways it could be understood, but we eventually say it. And we have said it," he said.
Article by Neil Moss originally published in The Hill Times on 29 June 2022.