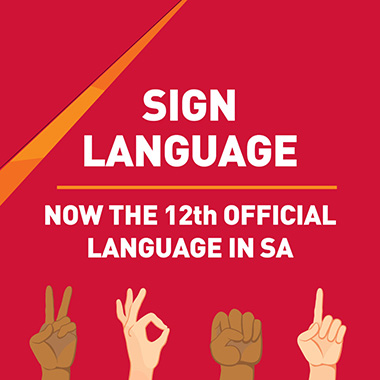 The National Assembly (NA) has approved the South African Sign Language (SASL) as the 12th official language during a hybrid plenary sitting on 3rd May.
The NA approved the Report of the Portfolio Committee on Justice and Constitutional Development on the Constitution Eighteenth Amendment Bill [B1 – 2023] to amend section 6 of the Constitution of the Republic of South Africa, 1996. The amendment was to include SASL as an official language to promote the rights of persons who are deaf and hard of hearing.
Until now, the South African Constitution provided for 11 official languages, which include Sepedi, Sesotho, Setswana, siSwati, Tshivenda, Xitsonga, Afrikaans, English, isiNdebele, isiXhosa and isiZulu.
"Primarily, the amendment seeks to advance the cultural acceptance of SASL, the deaf culture; ensure the realisation of the rights of persons who are deaf and hard of hearing to equal protection and benefit of the law and human dignity; and to promote inclusive and substantive equality and prevent or eliminate unfair discrimination on the ground of disability, as guaranteed by Section 9 of the Constitution," Parliament Spokesperson, Moloto Mothapo, said.
The amendment was adopted without opposition in the NA.
Source: SAnews.gov.za