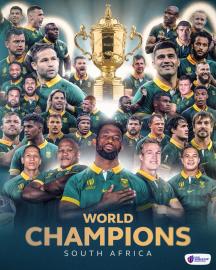 Dear Fellow South African,
The Springboks' win at the Stade de France on Saturday night has lifted the nation's spirits, confirming the enduring power of sport to unite and build a nation.
The Springboks go down in history for having won the Rugby World Cup more than any other nation, but this alone is not what makes this an exceptional triumph. The symbolism of this victory is as significant as the great sporting achievement we have witnessed.
It has been under democracy that the Springboks racked up these wins and lifted the coveted Webb Ellis Cup a record four times.
When South Africa first competed in the Rugby World Cup in 1995, our democracy was just a year old. Back then, there was just one black player on the team, the legendary Chester Williams. Of the squad that played in the past weekend's final, just short of half were black players, including the team captain, Siya Kolisi.
The journey of the Springboks to the historic victory in the 2023 Rugby World Cup is as much about our journey towards nationhood as it is about sporting excellence.
It is as much about our quest to ensure that representation in all facets of public life, including sport, stands as a potent symbol of the cherished values upon which this country was founded.
The fervent, colourful and touching displays of national pride from South Africans both at home and abroad during this tournament, show that perhaps as never before, the Springboks have well and truly been embraced by all races as their own.
The viral clip of Springboks winger Makazole Mapimpi being cheered on by customers and store staff whilst out grocery shopping, and that of Eben 'Elizabedi' Etzebeth and RG Snyman dancing with South African fans near the Eiffel Tower in Paris are among my personal favourites.
Witnessing so many South Africans don the national team's colours and profess their support online and on other platforms speaks to the deep love for our country and to our ability to pull together even when the going gets tough.
We need more of this, and not just in the domain of sporting achievement.
That we were able to overcome one of the worst global disasters in living memory in the form of the pandemic was in large part due to our ability to rally around a common cause, in pursuit of the greater good.
At times such as this, when our country faces many problems that at times cause our spirits to flag, we are reminded that our South Africanness, our sense of community and belonging, and our very nationhood did not evolve overnight.
It has taken considerable time to forge, and at times faced obstacles that threw us into uncertainty and doubt.
But if the story of the transformation of South African rugby, a sport that was once the bastion of racial supremacy, is anything to go by, our country will continue to reap the benefits of change if we remain united and if we stay the course.
The patriotism we display in sports stadiums should be reflected in our approach to overcoming our challenges. We are all in this together as government, business, labour, civil society and citizens.
We do not make light of South Africa's challenges. They cannot be forgotten or wished away by a fleeting moment such as a sporting victory.
The Springboks' win has united us in celebration. It is our hope that it must also serve to inspire the younger generation to derive important life lessons about perseverance, teamwork, discipline and leadership.
The interview that Siya Kolisi gave shortly after the team's win on Saturday will be remembered as one of the most poignant and meaningful from a sports person in our country.
He spoke about the different backgrounds of the team members and the difficulties they have had to overcome to reach this pinnacle of sporting achievement. "You have to be South African to see, feel and experience the things we do," he said.
This Springbok squad is one of the best rugby teams in the history of the sport. But they are far more than that. They are also great ambassadors for our country and for the values that continue to drive our efforts to build a united, more equal and prosperous nation.
Best best regards,