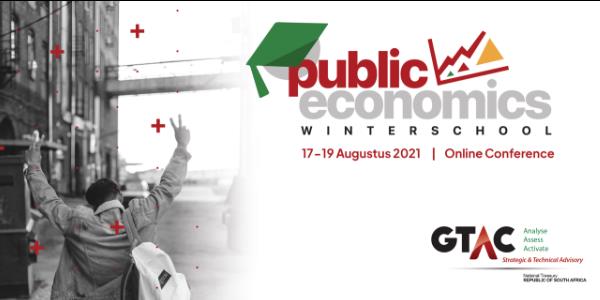 It's that time of the year again. A time for anticipation, a time to prepare and a time to look forward to new beginnings, growth and an abundance of learning. It's time for the GTAC Public Economics Winter School!
The 5th edition of this sought-after event, handcrafted for budding economists throughout South Africa and beyond, is taking place on 17 – 19 August 2021. This year the Winter School will be taking place on an exciting virtual platform. Attendees will be able to participate in lectures, panel discussions and debates and have the opportunity to engage directly with leaders and experts in the field.
The focus of the event is Covid-19: Policy choices towards containment and recovery, and the following themes will be explored:
Research and information on how Covid-19 impacted institutions, leadership, governance and behaviour.
The implementation of Covid-19 policies for vulnerable groups (women, youth, unemployed, informal sector, the poorest and rural areas, education).
Policy choices and trade-offs for economic growth
Have a sneak peek at the draft programme here.
Book your seat around the virtual table:
If you're a postgrad university student exploring your career choices in economics, law or social science, click here to apply.
If you're a young economist and would like the opportunity to attend, click here to apply.
RSVP here to attend as a civil servant or someone in private practice
For more information, visit the GTAC website or www.gtaconline.co.za or contact us at: winterschool@gtaconline.co.za
We look forward to your participation!
Winter School Team 2021