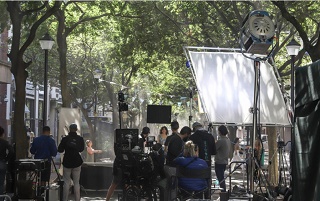 South Africa's legislative capital Cape Town on Thursday announced that it has established an online film locations library as part of assistance to the film industry that is trying to recover from the COVID-19 pandemic.
Film Cape Town, a project between the Cape Town municipality and the city's film industry, puts over 1,300 images and videos of locations across the city online, to showcase the city's amazing locations, film studios, infrastructure and architecture, the city said in a statement.
The image library is expected to assist in identifying potential locations in the pre-production phase of films, provide footage and images to filmmakers to help them complement their projects, and promote the city as a competitive international film destination.
The city municipality and Film Cape Town are working on promoting the local film industry ahead of summer, the peak season for film, and the image library is one of the first steps of the city's long-term strategy assisting the film industry, which has experienced a "challenging" period during the last 15 months, the city's Mayoral Committee Member for Safety and Security Alderman JP Smith said in the statement.
Cape Town is a popular destination for film and media productions in Africa, with a variety of world-class locations, studios, facilitation companies and specialized crew.
The film sector is a priority sector in the economy of Western Cape Province, where Cape Town is located, which generated around 5 billion Rands (345 million U.S. dollars) and created thousands of jobs a year, according to 2019's official figures.
Article was first published in Xinhua News on 06 August 2021 (link: www.xinhuanet.com)